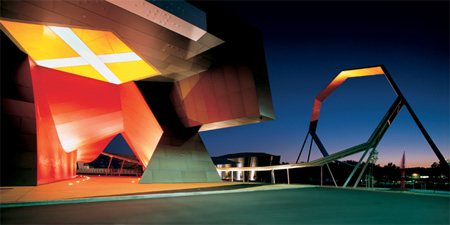 Today I took 3 of the KTNTM (kids too numerous to mention) to the National Museum of Australia, Canberra.
After spending an extra ten minutes or so driving around ANU and trying to find the Museum (not actually part of the University but accessible from it) we found it on a peninsula on Lake Burley Griffin's northern shores.
The Museum, also known as Canberra's 'rollercoaster', has a striking, colourful and fun exterior. On the inside it is made up of large, light-filled atriums. It looks huge, but its collection can be traversed in an hour or two.
The kids enjoyed the entry foyer which was based on a transport theme, including steam engine, old coach, model train collection, aeroplane, tinker's trailer, malvern star bicycle, vintage Holden etc.
Other collections include Australian animals, Australian popular culture, white Australian history, Australian industry and farming, Aboriginals, and Torres Strait Islanders.
In K-Space, kids can design their own futuristic homes and vehicles then watch the resulting 3D movie, with their photos included. The take away message is that our choices will affect our history.
There is an outdoor area that kids like to explore, featuring tunnels, waterways and sculptural aspects.
All in all, we had a nice time as the museum kept the kids interested. The first time I visited the museum I didn't think it had a lot for me, and seemed geared towards people with little knowledge of Australian history. Still, the exhibits are bound to contain something new for everyone. And frankly I will never tire of looking at the stuffed platypus and thylacine (Tasmanian Tiger) skeleton, or putting my kids in the convict leg-irons.
As a bonus we also bought some historical kids stories in chapter books reduced to $1 each at the museum shop.
National Museum of Australia website